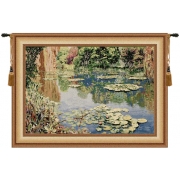 Balanced Energy
The age-old art of Feng Shui originates from China and is largely intended to balance the energies within a room. Adding harmony to any room by balancing the emotional and physical aspects of that room is what Feng Shui type designing is all about. When designing a room using these principles it is often possible to include quality wall art such as a European tapestry. A tapestry that denotes European history with rich European images will likely provide added positive energy to any Feng Shui inspired living space.
The Right Tapestry Placed In The Right Location
With the intention of bringing clarity and balance to a room, Feng Shui is an excellent way to create a unique and custom look that is flowing and peaceful. While basic interior design concepts include the idea of color, shape and form, Feng Shui is more about the placement of items within a room. Keeping this in mind it is easy to see why the right tapestry placed in the right location in a room would work so well with this interior design philosophy. By simply placing items in the right location in a room it is possible to increase the harmony of the space and essentially the positive energetic flow.
A Relaxing And Pleasing Ambience That Promotes Calmness
Other considerations with regard to Feng Shui designing for interiors include the delicate use of lighting and music. This creates a relaxing and pleasing ambience that promotes calmness, more clarity and a pleasing level of relaxation. In addition, another important part of this interior design philosophy is to include natural wood tones, and other earth-based materials such as stone. A water feature can also provide an excellent new dimension to any room as a way to create more of a Feng Shui type of atmosphere. Finally, living plants and even several varieties of bonsai trees can help to further the whole Feng Shui inspired concept in a room. By adding Feng Shui inspired design to a room and incorporating a European tapestry you are sure to create the ideal living space.
About Save On Tapestries
Save On Tapestries has been offering beautiful and elegant tapestries online for several years running and always provides quality customer service for those wishing to purchase their next beautiful piece of wall art online.