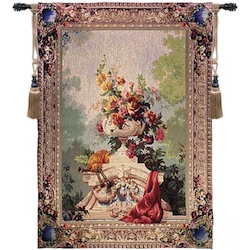 Expertly Crafted By Artisans In Italy
Enjoying Belgian tapestry and French Tapestry as a way to raise the bar in terms of any decorative interior is easy thanks to the many quality pieces available today. From Belgium tapestries that are hand woven to Italian tapestries that are expertly crafted by artisans in Italy, wall art of this nature is literally beyond compare. France has long produced some of the finest artwork found anywhere in the world. Beauty and exquisite elegance abound it virtually every piece that makes it way to homes, offices and galleries around the world. Textile art and fabric art that includes wall tapestries has been adding unique flavor to a wide variety of spaces for many centuries.
Give A Room The Added Zest And Appeal That It So Requires
The Bouquet Cornemuse French Tapestry is one such piece that has been adding elegance to almost every space it occupies. This Beauvais XIX century beautiful bouquet tapestry provides interior designers and others the perfect opportunity to enhance a space in a way that would otherwise not be possible. Considered a detailed reproduction, this work can give a room the added zest and appeal that it so requires. Perfect for placing over a lovely sofa, this artwork must be seen in person to totally appreciate. Those in search of historically correct décor accents need look no further, in that the Bouquet Cornemuse French Tapestry is ideal for display in a bedroom and a hallway.
An Ornate Pedestal Set In A Delightful Garden

Viewed as a true ornamental floral work, this premier fabric work displays a classic floral bouquet in a vase. The bagpipe bouquet represents the natural opulence of nature combined with music in a piece that expresses a lovely arrangement of flowers in full bloom. The entire work is presented on an ornate pedestal set in a delightful garden. Bagpipes are common in art originating from France. Some scholars even suggest that the bagpipe in art was first inspired by Roman culture. A flowing bright red drape is also present in the scene adding a luxurious element to the work. An impressive and detailed border completes the work.