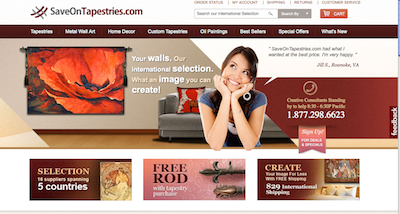 The Maison & Objet Trade Show is the Holy of Holies for Interior Design aficionados and professionals. Held twice per year in Paris, it draws vendors from all over Europe and the globe. Each show has a theme and a "programme", which is a display of a particular artist or designer in one of the large halls. You can find unique items which follow current interior design trends in everything from table linens to pillows to rugs and carpets to wall tapestries. Most everything you will find here will be modern, hip and cutting edge. If you are looking for modern wall art, this show will likely have a vendor that sells it. And you cannot attend, you can contact their website. An important point to know is that this trade show is for professionals in the field ONLY. You will be asked to produce credentials. There is a book of the show for sale if you are not able to attend. Also, a few exhibitors offer items for sale on the web. You can click here and then scroll to the bottom to see the vendors. But don't forget, you can always get the information you need from the programme and then find the vendors yourself if you are not an industry professional.
Interior Design And Lifestyle Summit
This year for the first time, Maison & Objet will be held in Asia (Singapore) from March 10 -13, 2014. The sectors at this show will include Design, Interior Decoration, and Luxe (international brands in decoration). Events include an interior design and lifestyle summit, with different keynote speakers each day followed by several workshops. Maison & Objet Asia may not be as large as the Paris shows, but it is sure to be as elegant and groundbreaking. It is not a show you want to miss if you have any interest in accessing the Asian Interior Design market. Textiles, including wall tapestries should be well represented there.