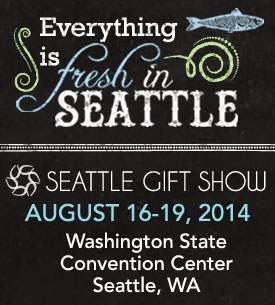 The Seattle Gift Show
August 16-19, 2014, Seattle, WA
A show that caters to the Pacific Northwest design trends, it is held in the Seattle convention center. It is host to over 30,000 visitors and 1000 exhibitors and is one of the largest trade shows that includes textiles such as wall tapestries and other hand crafted items. Most of the vendors are from the USA, but the show does have some international exhibitors. The show features many incentives for visitors and tourists, including free coffee, location near the permanent Pacific Market Place and great local restaurants. There will be free business building and networking seminars that will have industry experts speaking on various topics. A more detailed schedule will be available as the event nears. Also, if you arrive early on Monday August 16, there will be specials and discounts available, but you won't know what they are until you get there. You may be able to get some incredible deals. The Seattle Gift Show gets many artists who sell their crafts on www.etsy.com who band together and display their handmade items at the show.
What is very appealing about this show is that anyone can attend, and it is located in a beautiful city with lots of things to do, other than the show. Categories for this year's show will be Food Focus, Gifts and Collectibles, Handcrafted, Home and Garden, Northwest Directions (showcases local designers and resort apparel) and Personal Style (jewelry and accessories). This show is one of the better ones if you are looking for handmade textiles, wall art and/or tapestries. They generally have a very good showing of vendors in this area. You can check the vendor list, or email the show for more detailed information.
Contact Saveontapestries.com to learn more.