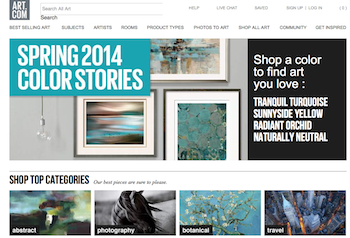 Art.com is a great site to get an overview of what can be done artistically in terms of fine art prints. You may not end up purchasing from them, but you can see prints from famous artists and get ideas from the online community. Art.com is very well organized and easy to navigate. If you are not sure about what you think you may want, you can start by searching by subject. There are more subjects than you might think about everything from beverages to typography. For those who may know the artist they like, including modern and contemporary ones, you can search by artist and see what prints are available. Last, if all you know is that you want "something" for a particular room in your home, you can search by room name and get some ideas and suggestions.
Around On The Internet For Over 10 Years
Once you find a print that you like, you can then decide if you want it printed on canvas, metal or wood. Or you can choose from a print, serigraph (silk-screening where one color is printed at a time), or a Gidee print (this is a fine art print of high quality made with a digital printer). There is also a section on wall tapestries and wall murals and art.com has an impressive selection. One very cool feature about the site is that you can upload any photo you like and have it made into a framed art piece. With the printing options available, it is a fun and easy way to personalize your home. Art.com may not be the least expensive, but they are a large company that has been around on the Internet for over 10 years. They are well established and have great customer service. These may be worth paying for if you are short on time.