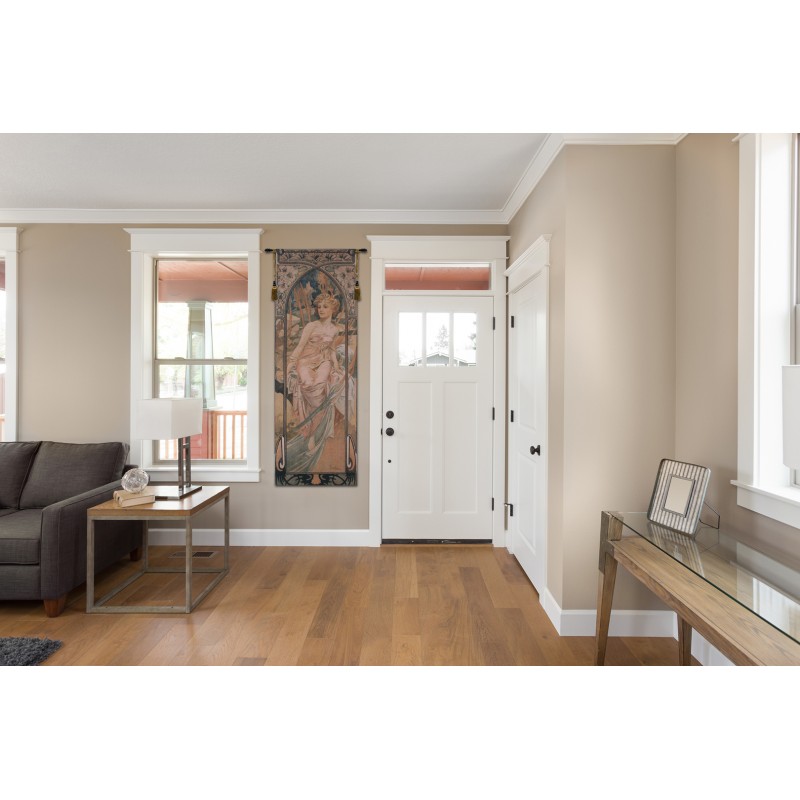 Portiere are doorway drapes or curtains placed over a door or the door-less entrance to any room. These Woven tapestries add some life and inspiration to any home. Also, they are mesmerizing and distinguish a room, adding a level of comfort like no other.
In the older days, heavy portiere tapestries were used to separate rooms. Today, these Portiere wall hangings serve decorative purposes. Woven tapestries add softness, color, and pattern to a room.
These Indoor Portiere wall hangings make an eye-catching welcoming decor into rooms. Today portiere wall-hangings are much in demand for their variety of styles. Not just they beautify any door in the traditional manner but are excellent ways to decorate a large wall too. You can simply hang a portiere tapestry from a regular door curtain rod, or shirr it over a tension rod hung within the door frame.
Here we have got for you a few of our favorite Art nouveau tapestries that are sure to elevate your home.
Morning Song I Belgian Tapestry Wall Hanging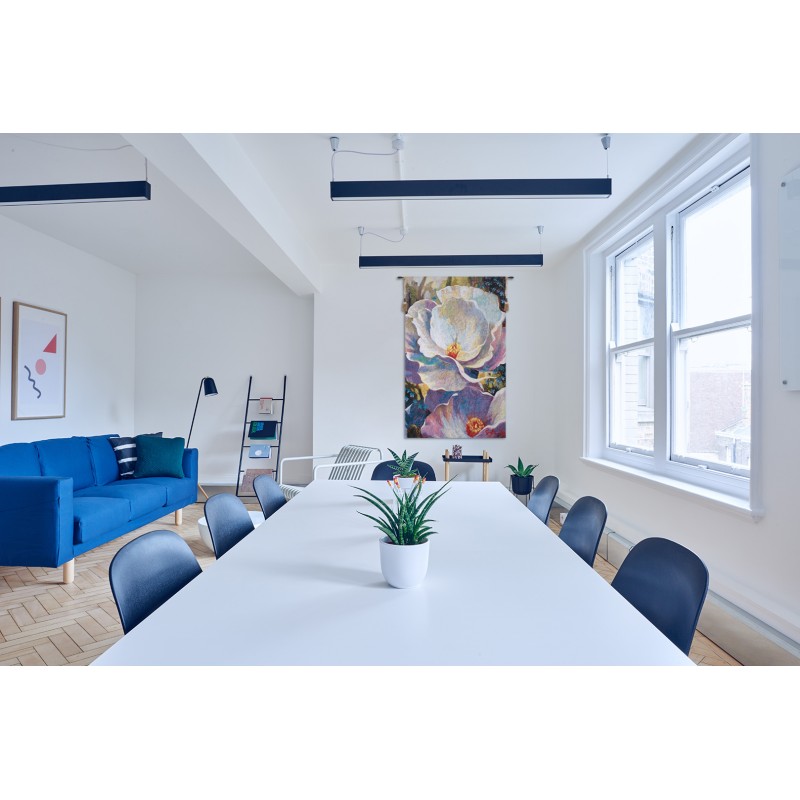 This beautiful, dreamy Belgian woven tapestry adds grace and softness to any room it is displayed in. Consider adding it to some unsightly areas, such as a closet, or powder room.
In Your Light by Simon Bull Belgian Tapestry Wall Hanging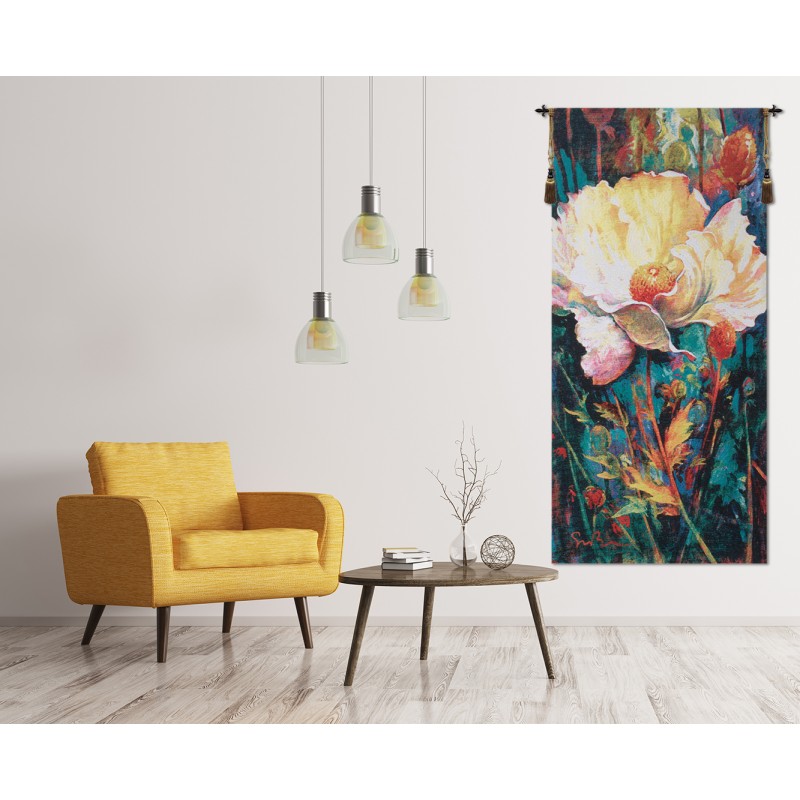 This Portiere tapestry is filled with a remarkably beautiful assembly of flowers that makes use of a sophisticated color palette of blue-greens, oranges, and of course the peach and yellow whites of the peony at center stage. Install this decor piece to bring a sense of vibrance and color to your surroundings.
This can be used in some cozy reading nook and will take the space to the next level. The beautiful colors and texture will turn this nook into a private retreat. You can also use this tapestry wall hanging for segmenting rooms.
Just look for parts of your home that you wish had walls, then install portiere wall hangings instead.
Winter Mucha Belgian Tapestry Wall Hanging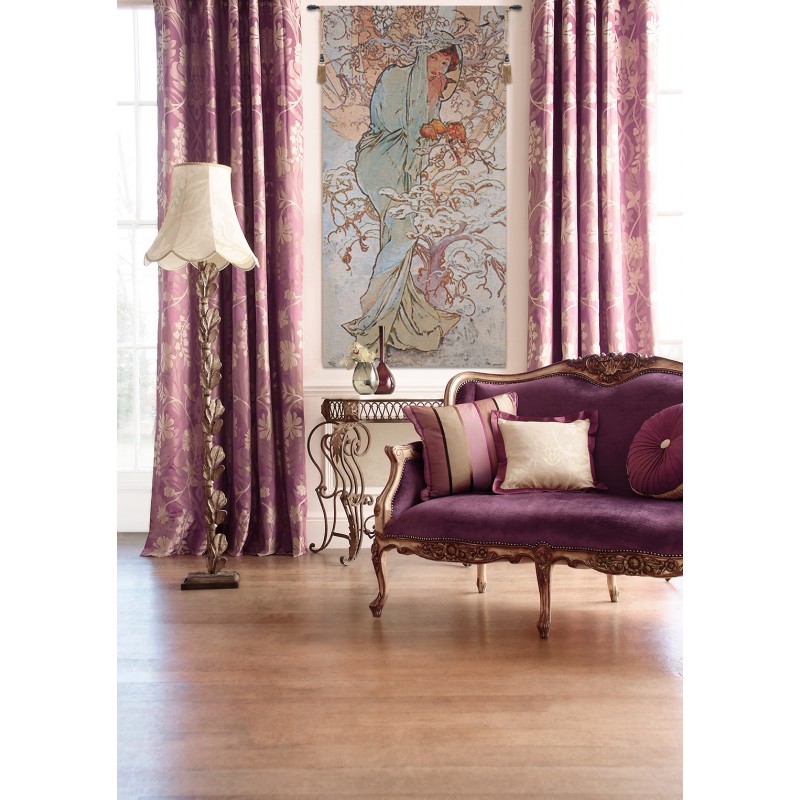 This Belgian woven jacquard wall art tapestry features a beautiful young woman in a flowing, vaguely Neoclassical looking robes, often surrounded by lush flowers forming halos behind her head in pale pastel colors. It makes a fine addition to your home decor.
Use it for covering the door or big window entrance. It will let light and air through. In the winter, it adds an extra layer of warmth and helps keep the space functional year-round.
Conclusion: At Save on Tapestries, you will get a wide range of Portiere tapestries in a variety of shapes, colors, and sizes. Take a look at the collection today that is sure to inspire and will leave a long-lasting impact on your guests.