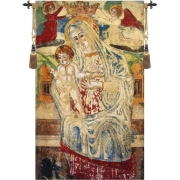 Long And Distinguished History
Most people today that know wall hanging tapestries know that there are certain custom weavers throughout the world that produce exceptional quality work. One version of quality handmade tapestries that would quickly become the center of any conversation is Flanders. Belgium works-of-art known as Flanders Tapestries have a long and distinguished history. Dating back centuries, ancient artisans perfected tapestry weaving techniques that have served to produce some of the most notable and remarkable tapestry art in the world. Known for colorful beauty and striking scenery, a Flanders has a European flair that is both elegant and narrative. As with most tapestries, a Flanders often tells a story of days gone by. In fact, many tapestries of ancient origin were designed to create a historical record of various events and moments in time. A Flanders Tapestry can offer a floral design as well as a landscape or scenic design. Regardless of the scene, one thing is certain and that is that a Flanders is a true work of art.
Threads Are Typically Made Of Gold And Silver
Flanders Tapestries range in styles and designs that include such scenes as the Medieval Ritual Of Knighthood or other unique events involving castles and knights. With a variety of scenes and sizes of tapestry carrying the Flanders name, those in appreciation of art will be pleased to know that a Flanders is made only of the highest quality materials. Incorporating quality wool, fine cotton in a variety of blends ensures that every Flanders is a quality piece. Other unique characteristics of the Flanders tapestry include silk threads that are finely woven into the fabric. These threads are typically gold and silver in color and even in makeup. These fine threads add depth, dimension and richness to every Flanders type tapestry. In addition, this unique threading feature creates an almost 3-D like effect. Acquiring a Flanders is a wonderful experience, especially knowing that this rare and delicate piece will likely become a family heirloom.
About
Save On Tapestry is a leading online distributor of elegant high quality handmade tapestries. Visit SaveOnTapestries.com today and explore one of the largest selections of custom handmade tapestries in the world.