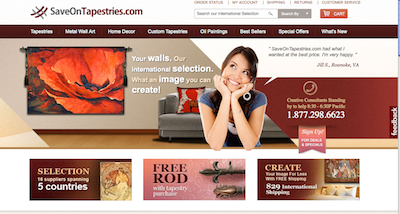 Using The Colors In The Tapestry As A Guide
Using wall tapestries in your already existing décor, or for a whole new look is easy to do. Tapestries are both wall art and a texture-adding accessory. No matter whether the feel of your home is modern or traditional, tapestries can provide a spoonful of interest to your place.
If you have found a tapestry that you had to have while traveling in Europe or you are looking to buy one, focus carefully on the colors. Italian tapestries are filled with rich and subtle tones, almost too many to count. You do not have to incorporate every single tone into your décor. Just focus on two dominant tones and 2 or 3 subordinate ones. Then, you can decide how you want to arrange the colors in the room. You may decide to paint an opposing wall a dominant tone, and the wall the wall tapestry is on in a subordinate one. By doing this, the tapestry will remain the focal point for the eye, while underscoring the minor hues.
It is possible to place a wall hanging on a wallpapered wall. However, you will have to be careful about the patterns clashing or taking away from the tapestry. A vertical-striped wall paper in subordinate colors can be very elegant, or you may decide to hang a textured wall paper in a muted hue.
Once you have the large items, like walls, decorated in colors from the wall tapestry, you can then decide on upholstery. A combination of solid tones and small patterns can be a great way to bring out less dominant colors in the tapestry. Accent pieces whose wood tones will also highlight the mood of the tapestry will be your final challenge; one that may last years. But it is always fun to have a good reason to go antiquing right?
Visit Saveontapestries.com Today To Learn More