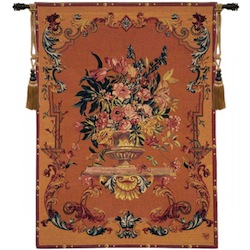 An Attractive Looking Space
Wall art such as tapestries is able to create a luxurious look and feel in any room. Beautiful designs and unique styles ensure that every interior design project that takes advantage of tapestry art is sure to be a hit. Finding the perfect design to suit your personal decorative planning is a way to capture your imagination and enhance any room. Anything is possible with wall hanging art such as tapestries. Enhancing your home to resemble a gallery or other inspired location is easy with fabric artwork. Showcasing beautiful art is possible by simply hanging a few unique fabric art tapestries.

Textile Art Is So Unique And Has So Much Depth
From Belgian tapestries to French wall tapestries and Italian tapestries, as well as a host of other European inspired art, artwork destined for otherwise bare walls has an important and useful artistic function in the world of interior design. No other form of art compares when choosing to enhance a room. Because textile art is so unique and has so much depth and character it can bring genuine beauty to a room. In truth, few other kinds of art compare. Textile art has custom colors and nuances that cannot be found in other types of two-dimensional art.
Develop A Unique And Attractive Looking Space
Tapestries come in many varieties and flavors including floral designs, medieval designs, unicorn designs and even landscape scenes. This full range of fabric art allows interior designers and homeowners to develop a unique, and an attractive looking space in a very short amount of time. From virtually any type of theme to any color combination, tapestry art can work well in any space. It is even possible for homeowners to collect a wide variety of tapestries or even a tapestry series that follows a common theme.
Dimensional Beauty And Rich Colors
One thing is certain with regard to fabric art, and that is that the possibilities are endless in terms of interior design. Every space stands to gain considerable elegance and beauty with the addition of any type of fabric or textile art. No other type of art can compare in terms of dimensional beauty and rich colors, tapestries are quickly becoming an essential for any home design project. Some tapestries can even resemble murals with large nature scenes as well as landscape designs. Many of which are destined for larger rooms as well as massive walls found in custom homes and manors.
Visit Saveontapestries.com to learn more about wall tapestries