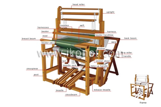 A Flanders tapestry (or a Belgium Tapestry) refers to a tapestry that was made during the high point of tapestry production in Europe. The 100 Years War (1337 to 1453) caused artisans to flee other parts of Europe to Flanders (what is called Brussels today) so they could continue their artistry. Over the next hundred years, artisans in guild would perfect their craft to astonishing caliber. The highpoint of Flanders tapestry production was the 16th and 17th century.
Tapestries from Flanders have the characteristics of intricate details of pattern and colors and exceptional quality. As you can see from the image above, there is hardly any "empty" space. Every inch is filled with elaborate patterns and color combinations. Brussels tapestries are rich and detailed. Flemish tapestries almost always have an ornate rectangular pattern that surrounds the subject. If you see this, then you know you are most likely looking at an original, or a Flemish inspired tapestry. They were so well made and cared for that many still exist today. If you have the budget, you can purchase an authentic Brussels tapestry. Most Flanders tapestries have religious or historical subjects. Some have fall and hunting scenes.
Another of the differentiating qualities of a Flemish tapestry is how it was made. While most tapestries at this time were made using what is called the "high warp technique", Brussels tapestries used a different technique called "low warp". Low warp looms use pedals to work threads through the horizontal warp. High warp looms had a vertical warp and no pedals. (See pictures). Using this technique, production of tapestries was faster, and this is one reason why so many were made and it is still possible to buy one.
Visit Save On Tapestries to learn more.