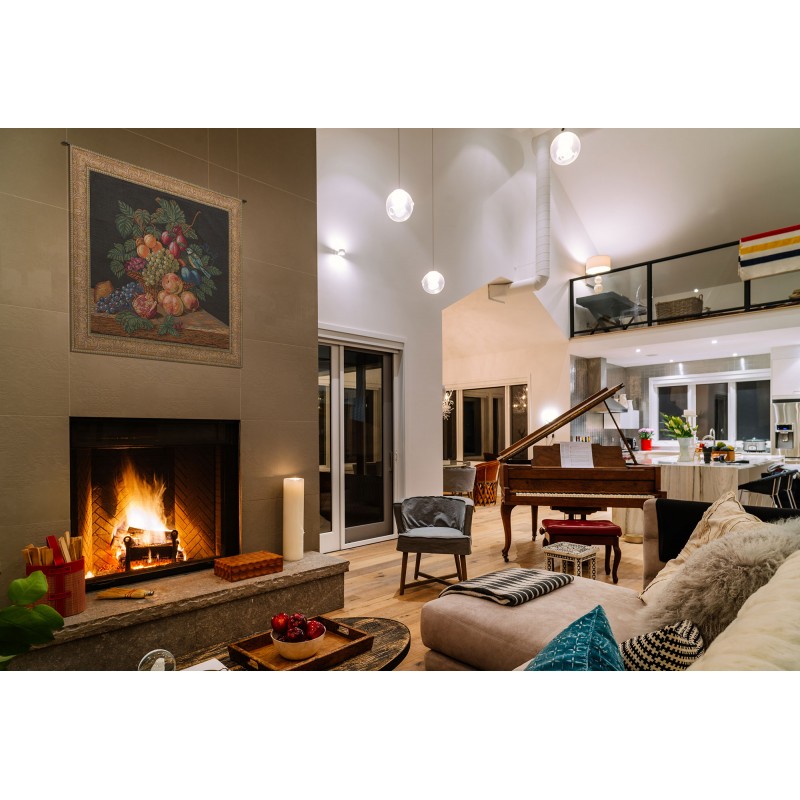 Tapestry wall hangings elevate the look of the walls. These designer hand-woven pieces can add life to any space. The details of the wall tapestry add a distinct character to your decor. Save On Tapestries brings you a large collection of tapestry wall hangings which includes the exquisite Wine and feast tapestries. The hand-picked pieces are masterfully crafted to provide you with quality products.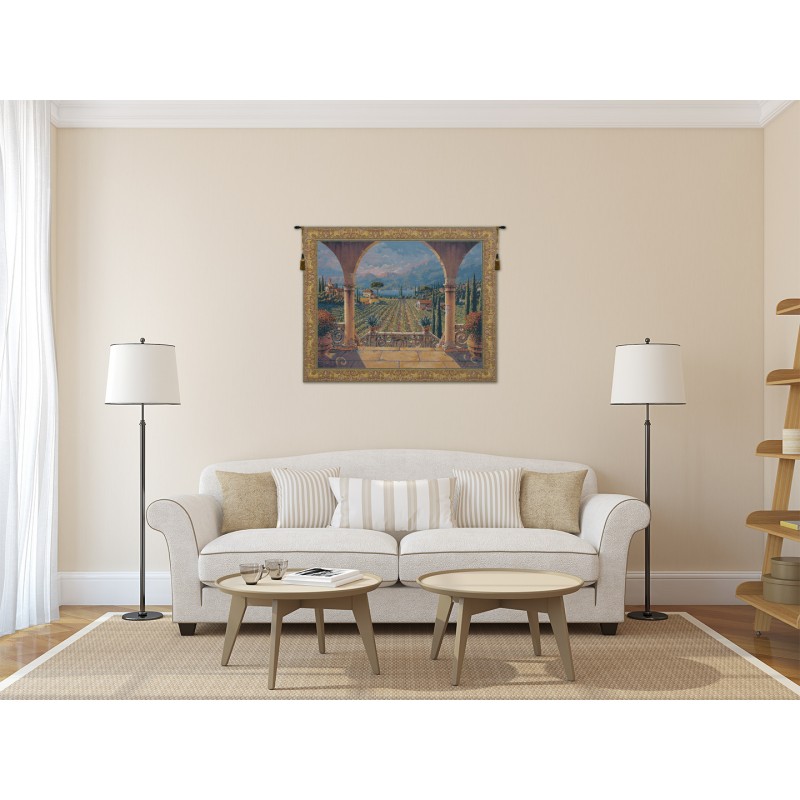 Brighten Your Walls with Medieval Tapestries
The trend of wall hangings is age-old. In earlier centuries, aristocrats and people of royal lineage used to invite artisans for weaving tapestries. Save On Tapestries introduces a wide collection of beautiful medieval wine and feast tapestries for your contemporary interiors. Tapestry wall hangings such as Lakeside Vineyard Belgian Tapestry Wall Hanging can become a beautiful wall accent. Showcasing a charming view, the woven art tapestry is a vibrant piece that complements somber toned backgrounds such as beige, off-white, almond, yellow, light blue and others. The masterful detailing on the border further enhances the look of the tapestry.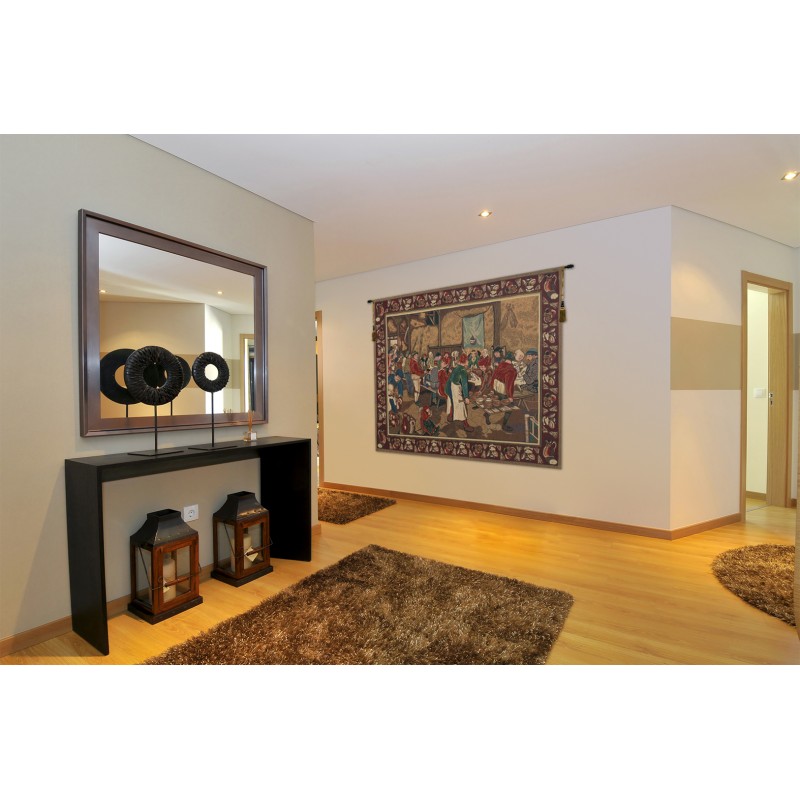 If you are a foodie and like to adorn your walls with something food-related, you can pick some amazing pieces from among hundreds of wine and feast tapestries. Cezanne Basquet On Table Belgian Tapestry Wall Hanging, French Still Life French Tapestry, Vase and Raisins French Tapestry And Elegant Feast Setting European Tapestry feature striking colors to brighten your walls. These tapestry wall hangings depict settings from medieval times with bold colors and patterns. You can fashion your walls at your pace choosing a tapestry that involves your favorite colors.
For the love of flora, you can pick woven art tapestries like Genovia Tapestry Wall Art and Ready For Harvest Tapestry Wall Art. The tapestries have fine detailing and beautiful borders.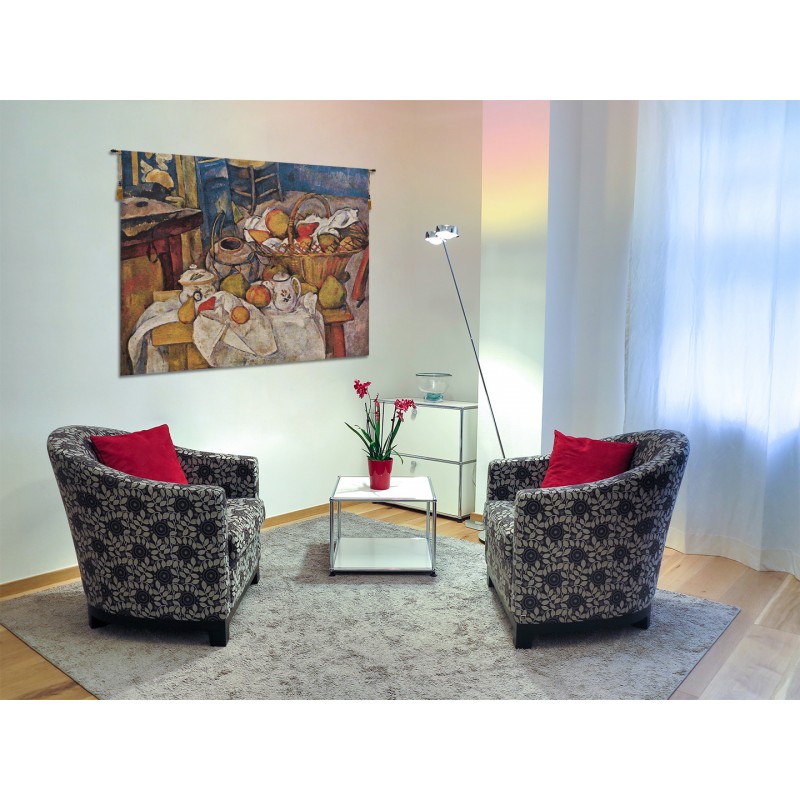 Vibrant Hues for Your Wall
Wine and feast tapestries are perfect to transform the look of your walls. Woven by expert craftsmen from France, Vendanges French Tapestry is an impressionist jacquard tapestry wall hanging that combines both bright and subtle colors. It features a red border with gold floral design. The tapestry adds elegance to its environment, whether it is hung in the bedroom, living room or hallway. La Cueillette French Tapestry Wall Hanging is another attractive woven art tapestry. The black backdrop is painted in the millefleurs style. The beautiful wall hanging is backed with lining and tunnel for easy hanging. It blends charmingly well with light-colored themes and wallpapers. You can also pick unique and experimental wall hangings to lend your walls a new and refreshing look. Vincanto Fine Art Tapestry, Crimson Still Life Tapestry Wall Hanging, Tuscan Arches European Tapestry and An Elegant Afternoon Gathering Fine Art Tapestry are brilliant pieces that shine out in the vast selection of medieval wine and feast tapestries. The surreal-looking wall hangings lend an extraordinary touch to your decor schemes. Premium quality cotton and wool are used in the making of these wall tapestries. They are easy to hang and maintain. Crafted by experienced and skilled craftsmen, these woven art tapestries are designed to withstand years of use.