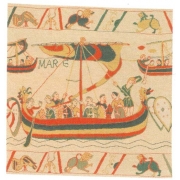 Medieval Period
Reminiscent of the medieval period, Bayeux Tapestry is beautiful and impressive with its handcrafted embroidery. Typically created with wool fiber yarn Bayeux Tapestries have a look and feel that is unique and highly reminiscent of days long past. Many of these stunningly attractive textile art piece replicas depict with incredible accuracy events that occurred over 1000 years ago. From the Battle of Hastings to other notable and historical events, this type of tapestry is highly sought after and desired by investors and art aficionados alike.
Aesthetically Pleasing Latin Text
Bayeux Tapestries have many unique qualities that are not typically found in other types of tapestry intended for walls. For example, many scenes include unique and aesthetically pleasing Latin text used to describe places, people and events. Other tapestries from this era contain unique mysteries that are to be solved only by the imagination. Tapestries of the era were often commissioned by notable figures or royal entities such as the House Of Normandy. Perhaps no other medium intended to tell a story or depicting a narrative is as artistically pleasing as textile artwork known as a tapestry.
A Very Popular Type Of Wall Tapestry
Dating back eons, fragments of tapestries have been discovered in Scandinavia and other parts of the world. Many scholars and experts suggest that modern or more recent wall tapestries originated from these early discoveries. Bayeux Tapestries have been replicated and reproduced over the years and are a very popular type of wall tapestry today. William Morris is perhaps one of the best-known artists to collaborate in developing high-quality replicas of Bayeux Tapestries. His work is regarded as some of the highest-quality tapestry art in the world. Beautiful replicas of this variety are displayed throughout museums around the world. For example, a full-size hand-painted replica resides in a Georgia University that is an impressively crafted Bayeux Tapestry.
About Save On Tapestries
Visit Save On Tapestries today at SaveOnTapestries.com and explore a wide selection of wall tapestries, runners, bell pulls and cushion covers to name but a few items. Textile art, canvas art and oil paintings that inspire are always on display when you visit this leading online wall art expert.