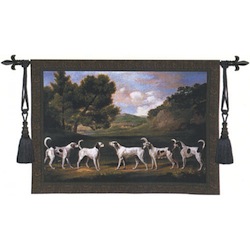 Natural Or Organic Flair
Like many other types of interior design art, landscape tapestries can add dimension and intrigue to any room. One of the keys to getting the most out of a landscape tapestry type wall art feature is to ensure that your personal preferences have been satisfied. Reflecting on your own unique taste and personal style is one of the best ways to choose the best wall art for your home or office. A reflection of your style can best be achieved when using a landscape inspired tapestry. For example, when an Italian or Tuscan theme is desired, an Italian landscape type tapestry can often be the perfect addition to any room. In contrast, a room that is lacking in terms of natural or organic flair can easily integrate nature styled landscape art into that space. Landscape wall art is unique in that it can add amazing levels of dimension to a room.
A Landscape Scene That Has Natural Green And Blue Tones
Another important consideration with regard to using landscape scene art as a way to decorate a room is color scheming. As with any other basic interior design strategy, color plays an important role in allowing a room to look balanced and flow better. For example, a landscape scene that has natural green and blue tones may best be suited to a room with neutral colors. Sharply contrasting colors or colors that do not flow well together naturally should be avoided. Choose tapestries that complement the existing colors in the room or match the current color scheme. From city landscapes to bold mountain landscapes and virtually every other type of landscape art, a room's dynamics can be changed noticeably using this type of strategy. Another useful tip with regard to tapestries designed to hang on a wall is the placement of the art itself. Choose a location for your art where it will gain the most attention. These are just a few simple ways to improve your to decor with tapestries.
About
Save On Tapestries has been serving the online art community for well over a decade. Visit the company website at Saveontapestries.com to find the perfect interior décor wall art for your unique needs.