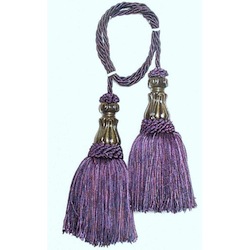 Accent A Treasured Piece Perfectly
To truly complete a lovely work of art such as a wall tapestry requires the most dedicated attention to detail with regard to accessories. One perfect tapestry accessory that adds an important dimension to almost any tapestry is a tassel. This great final finish is unique and is sure to accent a treasured piece perfectly. Tassels are key accessories because they can be used to coordinate colors and enhance the subtlety of colors in the walls of a room. These special additions are sure to add a touch of elegance to any hand-woven European tapestry. Tassels that can be displayed with tapestries come in a full range of colors and impressive styles. Offering up a dramatic finish to any wall tapestry, tassels are a bold and beautiful way to draw attention to any wall art piece of art such as a tapestry.
Wall Art Works Are All Displayed In Grandeur When Tassels Are included
Most tassels can be expected to come in a pair, and will serve to balance your work-of-art wall hanging in exquisite and delightful fashion. When tassels are integrated with the right tapestry rod and wall color the end result is an eye-catching interior design wonder. European wall tapestries and French tapestries as well as Belgium wall tapestries are all displayed in grandeur when tapestry tassels are incorporated into their overall effect. A tapestry piece of art that is intended for an otherwise bare wall can raise the stakes for an entire room. When choosing a tassel pair to display always exercise caution and match colors in such a way that they compliment each other. Tassels are usually made from the same high quality materials that a tapestry is made from so the care of these items should be similar. Beauty and elegance is there for the taking when you explore the decorating options made possible by beautiful tassels.
About
The popular online destination known as Save On Tapestries is a top provider of European wall art. The company has been serving the online art community for well over 10 years. We are ready fro your orders today on Cyber Monday!