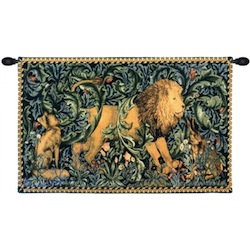 Remaining In The Spiritual
Common during medieval times the lion was symbolic of virtues and power. Some scholars suggest that the lion is representative of the Christ. In some respects it refers to three distinct elements of the Christ consciousness. The first of which would be the concept of the lion being hunted. In this case the lion is said to wipe clean its tracks as a way to avoid capture. This relates to Christ and his intention to keep his actual divinity unbeknownst to those around him. The next element relates to the lion always asleep with an eye open to the world. This is said to refer to Christ dying in the physical yet remaining in the spiritual. Lastly, the lion is said to represent cubs that are still born. The lion then roars over them as a way to bring them back to life. This is symbolic of God with Jesus after having remained in the tomb for three days. The Lion Tapestry is the perfect representation of this symbolism.
Added Dimension That Is Not Found In Oil Paintings
Woven in France this beautiful wall tapestry is indicative of the quality that fabric art of this nature so commonly delivers. Tapestries provide a level of beauty and luxury that is unmatched in any other type of wall art. This is largely due to the fact that this type of art has added dimension that is not found in oil paintings and the like. From Italian Tapestry to French Tapestry and Belgian Tapestry, wall art of this nature creates a custom look that interior designers love. Wall tapestries add flair and design element that is only possible using textile art created with various fabrics and materials. From Unicorn tapestries to Medieval Tapestries and Landscape tapestries, the possibilities are truly endless. Visit Saveontapestries.com to learn more about The Lion Tapestry and Tapestries in general. Fabric art can take you places you only dreamed of with regard to designing and creating.