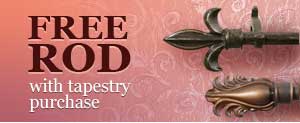 It seems everyone today is interested in wall tapestries. These beautiful works of art can raise the bar in terms of decorative appeal in any home or office. However, after purchasing your first tapestry there are a few specifics with regard to how to properly hang this type of wall art. Saveontapestries.com offers these simple tips on how to hang a wall tapestry.
• First you must decide if your wall tapestry has a rod tunnel. Most tapestries today have a rod tunnel sewn into the backing of the piece. This sets the stage for easy hanging by means of a tapestry rod or curtain rod. The size and style of the rod is typically determined by the size and weight of the tapestry. To achieve the proper look it is important for the rod to extend beyond the edges of the tapestry.
• It is important to carefully measure in preparation for hanging your tapestry. Plan to position your tapestry so that it is at normal or average eye level. The height of your tapestry hanging is important to achieving the desired results.
• Once you have determined the proper height for your tapestry and have installed the brackets and rod, simply hang the tapestry. Slide the tapestry rod through the tapestry tunnel, and then attach to the brackets.
• Finally, sit back relax and enjoy the beauty of your hand woven European tapestry. When a wall tapestry or any wall art for that matter is properly affixed to the wall the results can be quite dramatic.
Save On Tapestries is proud to offer this simple instructional article on how to properly hang a wall tapestry. When a wall tapestry is properly affixed to the wall and properly maintained it can be enjoyed for many years. Contact Saveontapestries.com to learn more about the proper care and maintenance of wall tapestries.