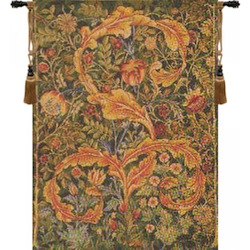 A Notable Artist With A Reputation For Quality
If there were one figure in recent history that would likely be considered key in reviving decorative artistic expression throughout the 19th century, it would likely be William Morris. This notable artist with a reputation for quality and a flair for inspirational art was born in Walthamstow, England in the year 1834. William Morris Tapestries are revered throughout the world as some of the most carefully crafted and artistically attractive tapestry works in the world. One of the key attributes of these wall hanging tapestries is that they exude a sense of art that has not been mass-produced. In other words, each work is original and unique. William Morris is credited with having created the artistic expression company known simply as Morris and Co. in the year 1875. The company had quickly built a reputation for producing outstanding home décor and interior design art.
A Process That Serves To Create A Sense Of Motion That Adds Uniqueness
The company focused primarily on such artistic works as stained glass, wall hanging tapestries and a host of other interior décor enhancing products such as wallpaper. The incredible quality of the products and art pieces produced by William Morris have stood the test of time and are still highly regarded and sought after today. Many of the works feature nature scenes that are both inspiring and elegant. One consistent theme that seems to run through all works by Morris includes the regular use of natural tones and nature elements designed to form patterns. This process serves to create a sense of motion that adds uniqueness and wonder to every wall tapestry produced by Morris. Other common themes that are often seen in a William Morris tapestry include floral designs that include wandering vines and beautiful blooming flowers. Allow William Morris to add depth and character to your next interior design project.
About Save On Tapestries
Having proudly served the online community for nearly a decade, Save On Tapestries continues to be the world leader in online tapestry sales. Visit SaveOnTapestries.com today and explore a growing selection of unique and custom wall tapestries.