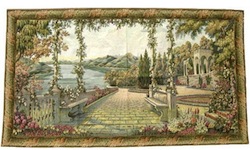 Vantage Points And Perspectives
Interior designers around the world and throughout the United States have used landscape tapestries to create impressive interior spaces for centuries. While landscape painting and landscape art can be traced back thousands of years to China and other Asian countries, this type of art has recently taken center stage as one of the best types of art for interior design. Landscape backgrounds are unique in that they offer a level of depth and stunning contrast that cannot be found in other types of artwork. Landscape pieces can include works with figures and people or can simply be natural scenes. Taking advantage of various vantage points and perspectives, artists that specialize in landscape type art can create beautiful and memorable images. From majestic mountain scenery to gentle rolling streams, landscape art is a perfect addition to any interior design project.
Cities Throughout The World
Wall tapestries that are inspired by landscape art can create beautiful dynamics in any home or office space. While many landscape paintings and textile art pieces are on display in some of the finest museums around the world, others are found in homes and offices of those that truly appreciate quality art. Many landscape works have survived for hundreds of years and are still revered today as some of the highest kinds of quality artwork to have been produced throughout history. Artwork that falls into the category of landscape art can also include townscapes. This type of landscape art is unique in that it can represent a variety of cities throughout the world. From the Rocky Mountains to Lake Geneva and a host of other unique and scenic locations around the world, landscape artists have time and again captured beautiful scenery in landscape art. Any interior design project stands to gain from what is offered by landscape tapestries and landscape inspired wall art.
About
Save On Tapestries is an e-commerce website located at https://www.SaveOnTapestries.com. As one of the most popular websites on the Internet today offering a wide variety of wall art, canvas art and oil paintings, Save On Tapestries has quickly grown to become perhaps the most popular online destinations for true art lovers.