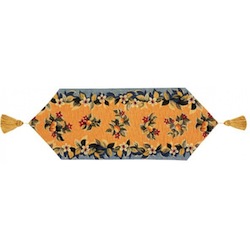 Change The Entire Dynamics
An elegant dining room is well served when a tapestry table runner is added to the mix. These unique, hand woven and attractive pieces can add a touch of royalty to virtually any type of dining room furniture or dining room space. With rich and elegant charm these tapestries produced in Belgium, France and other areas of Europe that are known for quality textile art creation are the perfect complement to any well-planned dining room or dining area. Adding the ultimate and classic look and feel, a European tapestry table runner can change the entire dynamics of what would otherwise be an ordinary dining room. From medieval table runner tapestries to religious table runner tapestries and even nature scenes, runners for table that are handcrafted with high-quality materials create a delightful environment in your dining area for all to see and share.
Bold Styles
There are a number of ways to coordinate dining room table runners. For example, colors can be coordinated with walls, other pieces of furniture or accessories. Generally speaking, in terms of interior design techniques and strategies it is often good to choose one specific color that is inherent in a tapestry used for a dining room table that will fit perfectly with the painted walls of that room. Another approach is using a tapestry to brighten up and enhance a room with contemporary style furniture. Because contemporary furniture is typically void of patterns and bold styles, runners for dining room tables can be the perfect accessories to greatly enhance that room. One of the best ways to ensure that you are getting the right looking runner for your dining room table is to compare paint samples with various tapestries prior to making a final decision. When a dining room table is enhanced with a tapestry-style runner the possibilities are virtually endless.
About
Visit or call Save On Tapestries today and learn more about high-quality hand woven European runners for dining room tables and other tables throughout your home. Considered to be the online leader in European style tapestries, SaveOnTapestries.com has been serving the online public for nearly a dozen years providing the highest quality and most exquisite tapestries found anywhere throughout the world.