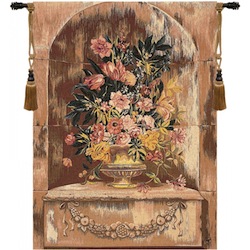 Handcrafted In Workshops
French tapestry wall hangings are perhaps one of the most unique and delightful ways to bring rich French history to a room. French tapestries have a tradition and historical significance that goes back centuries. These fabric wall art pieces that are hand woven contributed greatly to the interesting period known as the Middle-Ages. This time period traces back to the 16th century. These works of art were originally handcrafted in workshops located throughout Paris and Tournai, as well as the Loire Valley of France. Fine French tapestries were often inspired by famous painters of the time.
The Original Tapestry Factories Dating Back To The 1800s
Quality looms were often used and incorporated to create exceptional works of art by artists and tapestry experts. By taking full advantage of all that the Jacquard loom has to offer, weavers worked tirelessly to produce precision textile art. Many French tapestry collections found today are actually still made in some of the original tapestry factories dating back to the 1800s. With a rich history and a level of beauty beyond compare, French fabric wall hangings are the ideal addition to today's modern and elegant interiors.
The Highest Quality Wools And Cottons
Interior designers and homeowners alike looking to add opulence to a space or interior in general can achieve amazing results with French tapestries. Using the highest quality wools and cottons, today's modern tapestry weavers weave with incredible accuracy producing stunningly attractive replicas of tapestries dating back to the Middle-Ages. Beauty and elegance are the hallmarks of these incredible textile art pieces. Enhancing any space is easy with the help of French wall art and tapestries.
About
Saveontapestries.com is a renowned leader in the field of online tapestry sales. Having produced thousands of successful sales for those looking for quality wall tapestries such as fine French tapestry wall hangings, Save On Tapestries delivers quality pieces consistently. With a highly intuitive website that is easy to browse, online shoppers can find the ideal tapestry for their specific interior design needs. Visit today!