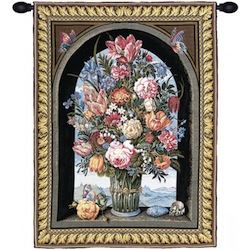 Know Your Fabrics
Antique shops offer all kinds of treasures from accent pieces to "big" furniture items. Tapestries are also terrific finds, although they may be a bit rarer and require more shoe leather. You never know what you may find. Here are a few tips so you know something about the tapestry you are buying and whether the price is fair or not:
• Tags: If there is a tag on the tapestry, then you know it was mass produced. This is not necessarily a bad thing, but it does tell you that the tapestry is not unique and was made in modern times. It still may qualify as an "antique", by being 30 years old or so and it still may be a great find. But if the dealer tries to tell you it is more than 30 years or so, it is likely not true.
• Stitches: Just like designer handbags, you can tell a tapestry made with a hand loom from one made on an industrial loom. Bring a magnifying glass and look carefully. If the tapestry was handmade, you will see variations in stitch size. If everything looks uniform, you know that a machine did it.
• Know your fabrics: Before you go searching for an antique tapestry, be sure you can tell the difference between cotton and wool threads, and nylon or polyesters. It may seem like it would be easy to tell, but without some practice, you may not be able to determine the difference. Natural fibers generally indicate an older tapestry.
Of course, what is of more importance is that you find a unique wall hanging. You may not actually care if it is an antique if it has the design and colors you like. But you do not what to pay more than you have to. Knowing these basics about older tapestries may end up saving you hundreds.
About
Save On Tapestries is a world leader in discounted fine European wall tapestries.